How to tie your shoes in the mountains Outdoor Magazine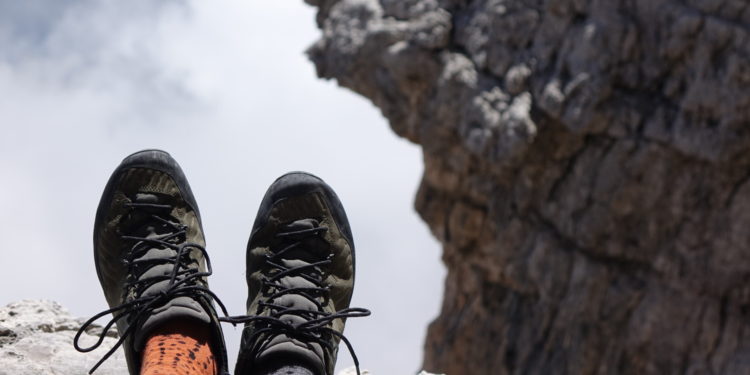 How to tie your shoes in the mountains?
This is one question that seemingly one might not ask. However, it turns out that shoes can be tied better or worse, which is crucial in mountainous terrain. In order to do without unpleasant abrasions, pressure and other discomfort, mountain boots must not only be well suited to the activity and comfortable (see our guide – how to choose good shoes), but also properly knotted.
Binding vs. types of shoes
Most high mountain (trekking) boots can be laced in two zones. Models of this type have special hooks that allow you to vary the lacing strength of the boot in the lower and upper parts. Often it is a hook offset backwards from the row of other grommets, self-locking or with some other design that locks the shoelace. It allows us to adjust the upper part of the binding without changing the tension of the lower part.
Approach shoes and other shoes with a low upper (all-sports, running, hybrid) usually do not have this option. Nevertheless, we can also tie them tighter or looser, and this is what largely determines the comfort of the feet.
Shoe lacing (fot. outdoormagazine.pl)
Rules for tying shoes in the mountains
During approaches, we generally tie our shoes more loosely. If possible, leave the lower part fairly tightened, and lace the upper gently. This allows the foot and ankle joint to work freely.
When walking down, tie the shoes tighter so that the foot does not move forward. The toes should never hit the inside of the tip of the shoe, nor should the foot move sideways. This will help avoid bruises, abrasions and ankle sprains.
It's always a good idea to check that the sock doesn't roll up and that the tongue lies evenly before tying the shoe.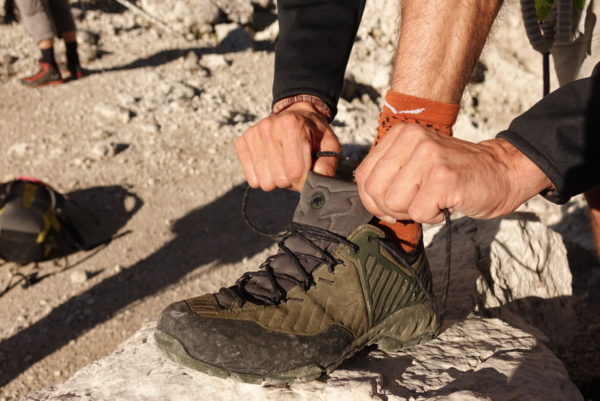 Lacing the shoes (fot. outdoormagazine.pl)
Ways of lacing up
There are several lacing methods that help reduce pressure for people with a specific foot shape (wide or high instep). In the area of perceived pressure, we run the laces not crosswise, but vertically, leaving a "window" in the sensitive area.
Laces
Good laces should not only be durable, but also adequately rough/slippery. On the one hand, they should allow easy untying (there is usually no problem with this), and on the other hand, they should not untie themselves.
In addition, it's a good idea to double-tie the laces (especially underneath the stuput when access is limited). Then they will definitely not untie.
When replacing laces with new ones, it is best to measure the previous ones and buy laces of the same length. If this is not possible, because, for example. old laces have been broken and tied several times (it happens), you can use the diagram (number of rows of eyelets / approximate length of laces):