Kånken family of iconic backpacks new for 2022 season sponsored – Outdoor Magazine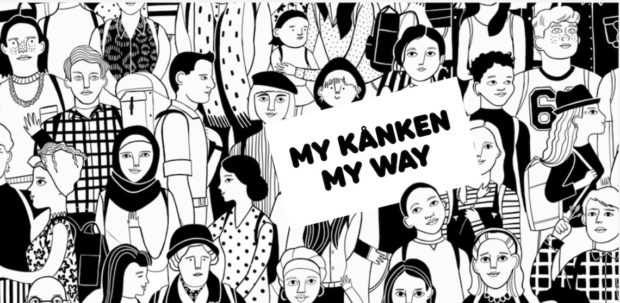 Kånken family of iconic backpacks: news for the 2022 season [sponsored]
In the late 1970s, Åke Nordin – founder of the acclaimed, growing Swedish outdoor brand Fjällräven – read an article about back problems in schoolchildren at a young age. The reason was their heavy and bulky backpacks. As Fjällräven's history began with the production of trekking backpacks, Åke decided to create a model that would also work for school.
Its design was based on the same principles: functionality, durability and comfort, which are applied to the brand's entire range – from pants and jackets to tents and sleeping bags. Kånken was launched in 1978 and is still Fjällräven's most iconic product today.
Over the years, the brand's reputation as a manufacturer of high-quality outdoor gear grew, and with it the popularity of Kånken backpacks around the world. Various versions of this distinctive, angular backpack have been created, the color palette has been expanded and new materials have been added. Nevertheless, each successive version had the same timeless design, loved from day one. Kånken is now a true trademark of the brand, worn by people of all ages and backgrounds. With a wide range of products in this family, there is something just right for everyone.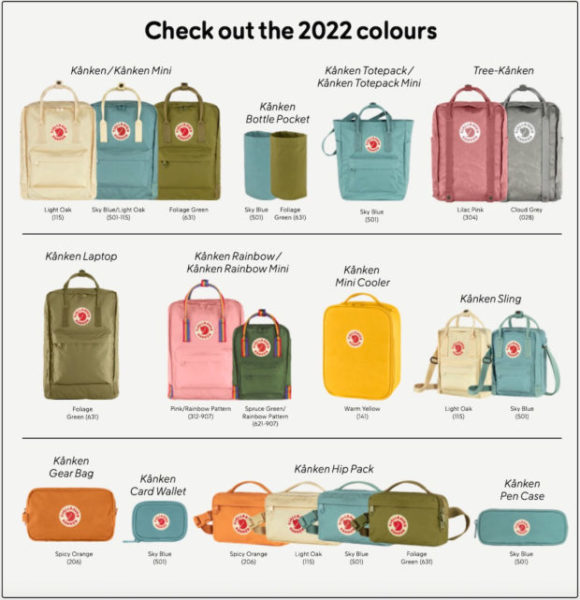 The iconic Kånken family of backpacks (photo. manufacturer's materials)
Meet Kånken Art '22. Free Horizon by Tekla Evelina Severin
Kånken Art is created when well-known artists express their connection to nature using a Kånken backpack as a canvas. In the spring of 2022, Fjällräven unveiled the fourth version of this limited edition series. Kånken Art '22 was designed by Tekla Evelina Severin, a Swedish colorist, designer and photographer. Her design, "Free Horizon," is based on the lines and spaces found in nature, particularly where land and sea meet the sky:
My starting point was the lines and spaces in nature, and the next step was to build a composition around them. I wanted to find something long-lasting, open and spacious. And what is more open and constant than the horizon line where the sea or land meets the sky? Seemingly always the same, yet constantly changing. When it comes to colors, I was inspired by warm and sunny latitudes, rugged cliffs of archipelagos and illuminated fields of poppies bathed in pink sunsets. Smaller and larger details contribute to the main composition and are important elements of the whole, while creating their own worlds.
One percent of the sales of Kånken Art products is donated directly to the Arctic Fox Initiative, an initiative through which Fjällräven supports projects that primarily aim to protect nature. Learn more about the Arctic Fox Initiative and the organizations it has supported so far.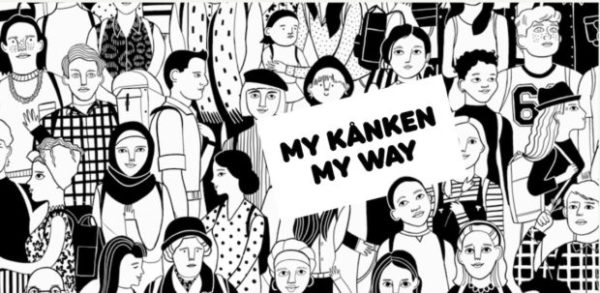 Kånken Me is a Kånken that you can personalize
In 2021, Fjällräven launched a new platform that allows any Kånken backpack lover to create a model specifically for themselves. The platform gives fans the opportunity to get creative and personalize their favorite backpack even more, so they can express their colorful personality, match it with their favorite jacket or simply improvise. With 14 colors and 15 customizable items to choose from, the online configurator provides endless combinations, making it virtually impossible to meet someone with the same Kånken Me backpack.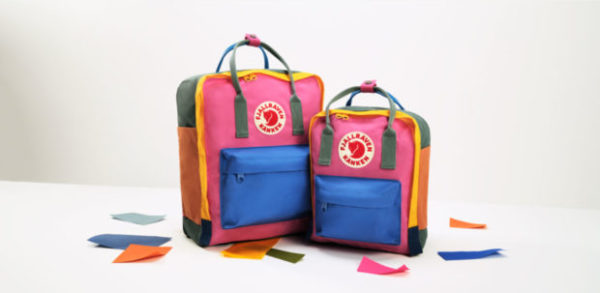 Kånken's family of iconic backpacks (photo. manufacturer's materials)
Kånken Me just got smaller (in a good way): Introducing Kånken Me Mini
In February 2022, the ability to personalize the Kånken Mini model was added to the Kånken Me platform. Kånken Me Mini, the little brother of the original Kånken, offers the same range of colors and elements that can be customized to your preferences. It just comes in a size smaller. Experiment and have fun. Match each color with perfect precision or completely let your imagination run wild. Share the link with a friend and create together, taking turns working on the same design. Execute your ideas unhurriedly or quickly, in minutes. With Kånken Me and Kånken Me Mini, the possibilities are endless.
Get to know the Kånken Me and Kånken Me Mini backpacks better by designing them yourself.