Victoria Evans has crossed the Atlantic. Will there be a world record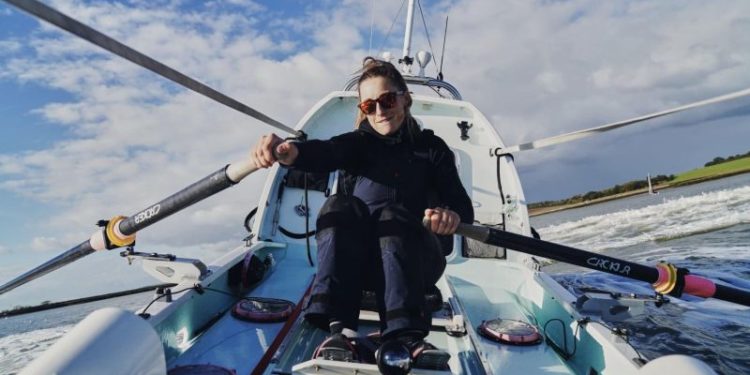 Victoria Evans has crossed the Atlantic. Will there be a world record?
On Thursday, March 24, after 40 days and 19 hours of solo transoceanic crossing aboard a special rowboat, Victoria Evans She arrived on the shores of Central America. The 35-year-old lawyer from the UK is now waiting in Barbados for the official approval of the record by the Guinness Book of World Records.
A British woman covered a route of 2,559 nautical miles, or about 4,700 km, from Tenerife in the Canary Islands archipelago, from where she set off on February 11 this year, to Barbados in the Lesser Antilles archipelago. This is one of several routes taken by rowers to break records.
The record that Evans is measured against belongs to Kiko Matthews, who crossed the Atlantic in 49 days. However, whether the result has been improved or not is not as easy to resolve as it might seem. Just type in the record search engine at Guinness World Records some keywords (Atlantic, row., fastest) to see how many categories there are in which records have already been broken and what rules they are subject to. That's why Evans herself is waiting patiently for the Book chapter's verdict. Here's an interview she gave shortly after completing the crossing:
Regardless of the Book's decision, it's quite a feat. Evans rowed 12-14 hours a day and slept at most 6 hours – in naps of 20-30 minutes each, because she did not want the boat to drift for too long. She set out with the intention of breaking a record, and a strictly sporting attitude accompanied her throughout the journey. From this angle, she chose both the route and the time of the crossing: the wind and currents pushed her more or less forward, although the waves were sometimes even too strong, large enough to be dangerous.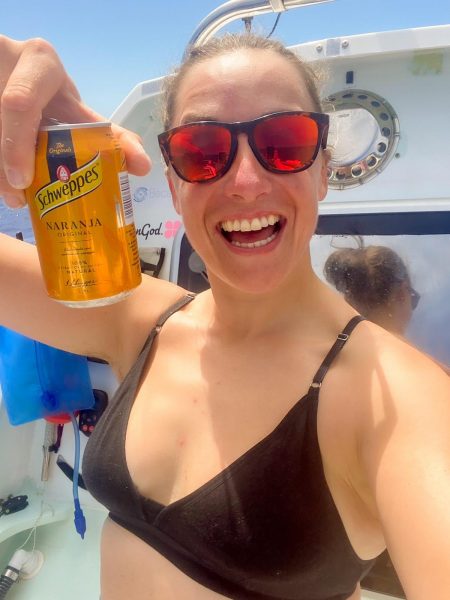 Victoria Evans crossed the Atlantic by rowboat in a record time of 40 days and 19 hours (photo. Sea Change Sport)
For the first three weeks, she fought the forces of nature that bore her northward. Later, the weather calmed down and Evans would have been able to focus on her paddling rhythm, had it not been for new adversity. She fell ill with hemiplegia. She accidentally slammed the cabin door. Still another time, while carrying the equipment, a wave sloshed on board, completely flooding the electronic equipment. On March 10, the EPIRB emergency call system alerted the family. The device is usually activated manually, but the signal is also sent automatically in a sinking situation. Fortunately, it was a false alarm, caused by water constantly pouring over the sides.
Imagine your two hours rest looking like this! Trying to sleep through it all with the autohelm alarm going off and being rolled from one side of the cabin to the other…it's extremely difficult to get any rest. 😴

Less than 900NM left – 65% of the crossing complete! pic.twitter.com/w26NfLN8gY

– Sea Change Sport (@SeaChangeSport) March 9, 2022
According to the Ocean Rowing Society, this route was crossed 163 times, including only 30 times solo. Victoria Evans is believed to be one of 11 women to have crossed the Atlantic in a rowboat from east to west.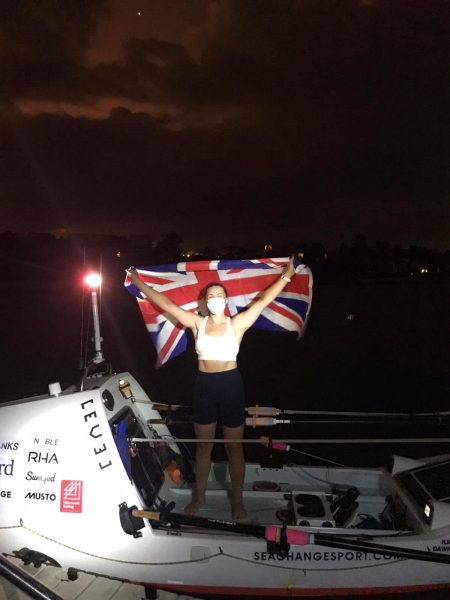 Victoria Evans after arriving in port in Barbados (photo. Sea Change Sport)
Victoria Evans had been planning her feat for more than a year. To devote herself fully to training, she quit her job. So it seems that sports and competition are written into its DNA, but not. Up to 20. A year of her life she avoided any activity. She suffered from depression and eating disorders. She was eventually inspired to change her lifestyle by friends and a subsequent move to Switzerland, where she began hiking, biking and skiing in the mountains. She had not rowed a rowboat until 2019!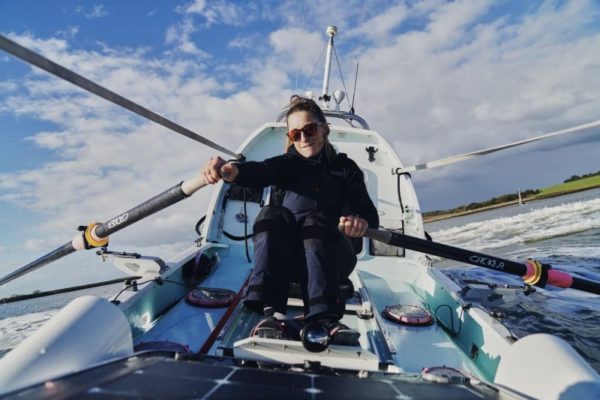 Victoria Evans crossed the Atlantic in a rowboat in a record time of 40 days and 19 hours (pic. Sea Change Sport)