Brand's outdoor running shoes – Dynafit 2022 collection sponsored – Outdoor Magazine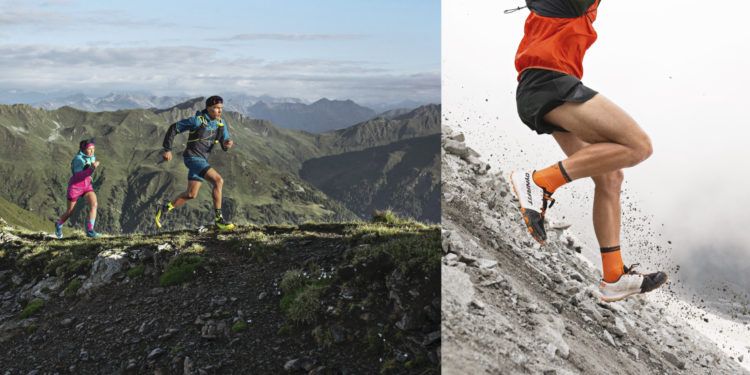 The brand's outdoor running shoes – Dynafit 2022 collection [sponsored]
Trail running is multifaceted and places the most varied but always high demands – on equipment, people and materials alike. For this year's summer season, DYNAFIT, a brand specializing in mountain endurance sports, has prepared a top-quality, tailor-made collection of shoes for every type of outdoor running – from skyrunning and fast medium-distance training to demanding ultra challenges on trails of more than 100 kilometers. All models feature an optimal weight-to-performance ratio, and are also distinguished by a high level of technical refinement and features designed with special attention to their intended use. This set of benefits ensures that runners will be optimally equipped for any action in the mountains.
New: Sky DNA – measure high
Aggressive, uncompromising, fast – Sky DNA shoes have speed written in their genes and were developed specifically for demanding, technical skyrunning trails, which for athletes are an all-around test of their abilities. After all, alpine terrain requires not only speed and great endurance, but also excellent coordination and lightning-fast reactions. With a precise fit and minimal heel-to-toe drop, Sky DNA provides optimal contact with the ground, allowing you to set new life records.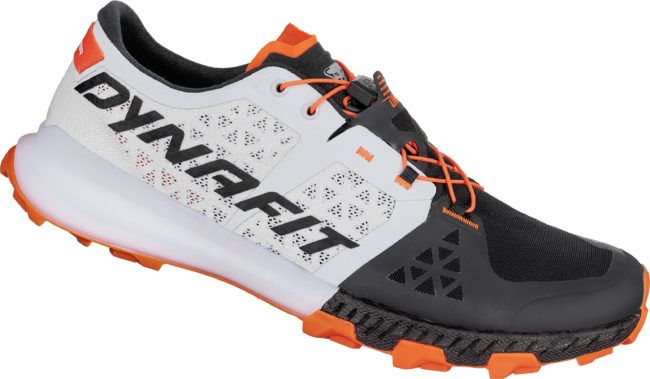 Sky DNA – measure high (photo. Dynafit)
Weighing just 239 grams in the men's version and 207 grams in the women's, the Sky DNA is the lightest and most responsive shoe in the collection. Proven on all terrains and in all conditions, the Vibram® Litebase Megagrip outsole is considered the "standard of measure" of all solutions, guaranteeing top performance in trailrunning and competitive sports. However, the most important part of the shoe is the new midsole made of extremely resilient Pebax® foam. The material has proven itself in highly engineered ski boots – combining strength with flexibility for maximum energy return, allowing you to take full advantage of leg strength and speed. Importantly, the use of Pebax® foam also reduced the weight of the midsole by about 30 percent, compared to the standard EVA foam solution. The Double Speed quick lacing system allows the boot to precisely adapt to the shape of the foot, providing a solid and secure hold. The appropriate design of the system optimizes the distribution of the force that supports the foot over the largest possible area, so we do not have to worry about feeling pressure while running, instead we can fully enjoy the stability and control of each step.
Sizes: 3-9 UK (women's) / 6-13 UK (men's)
Weight: 207 g (women's) / 239 g (men's)
Drop: 4 mm
Suggested price: PLN 779.90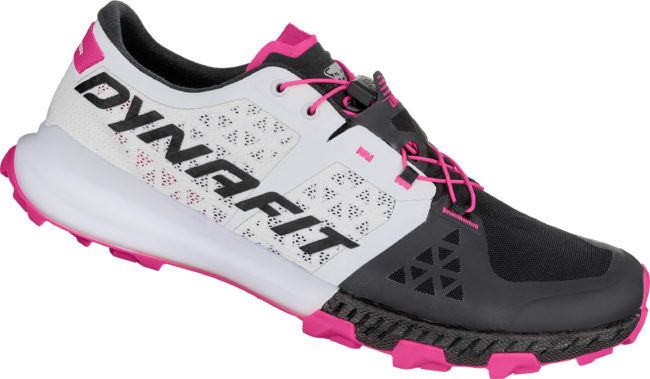 Sky DNA – measure high. Women's version (photo. Dynafit)
New: Ultra 50 – you are already thinking about the next challenge
The Ultra 50 shoes are designed for long runs in demanding alpine terrain, where safety and protection are paramount. This trailrunning model guarantees excellent cushioning and a comfortable fit over distances exceeding 40 kilometers. With its 8-millimeter drop (heel-to-toe drop), rounded Alpine Rocker sole profile and high level of cushioning, the Ultra 50 supports dynamic running on technical terrain. Spatially structured (3D) mesh upper construction and seamless tongue effectively prevent pressure points, while keeping the foot stable. The fit system is solved in such a way that it allows to increase the volume beyond the standard, which improves comfort when the feet swell on ultra-long distances.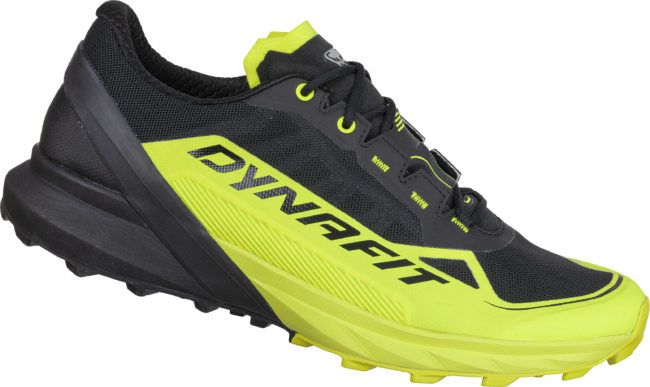 Ultra 50 – you're already thinking about your next challenge (pic. Dynafit)
The POMOCA outsole used in the Ultra 50 features a self-cleaning, aggressive tread that provides optimal grip and responsiveness both on dry ground and in wet, adverse conditions. Ballistic Bumpers reinforcements in the toe area and a thin layer of TPU used in sensitive areas protect the foot from hitting rocks. Classic lacing adjusts the boots precisely to the shape of your legs, and the Invisible Lacing System is an extra layer of material that covers the laces, preventing them from coming loose.
Sizes: 3 – 9 UK (women's) / 6 – 13 UK (men's)
Weight: 250 g (women's) / 290 g (men's)
Drop: 8 mm
Suggested price: PLN 649.90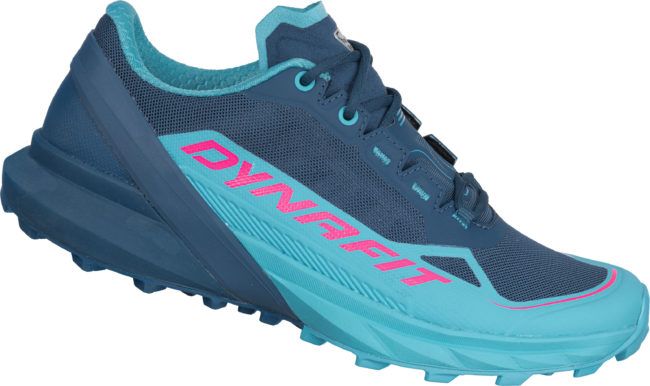 Ultra 50 – you are already thinking about the next challenge. Women's version (fot. Dynafit)
Alpine – a versatile tool for any route
For any workout and any trail – the Alpine model is a lightweight, responsive and extremely versatile companion on a variety of terrain. This trailrunning model provides good cushioning and a comfortable fit, while the 6-millimeter heel-to-toe drop and mid-volume design make it an ideal option for both fast training sessions and mid- to long-distance runs. The effective Vibram® Megagrip outsole guarantees excellent grip and sure-footedness even in difficult conditions and on wet ground. The seamless tongue, on the other hand, offers a high level of wearing comfort, and by eliminating compression issues, it allows you to maintain your power even on a long run. The rounded profile of the Alpine Rocker outsole design and well-tuned cushioning provide dynamism and responsiveness for any hard workout. Alpine is a truly versatile weapon for trailrunning fans.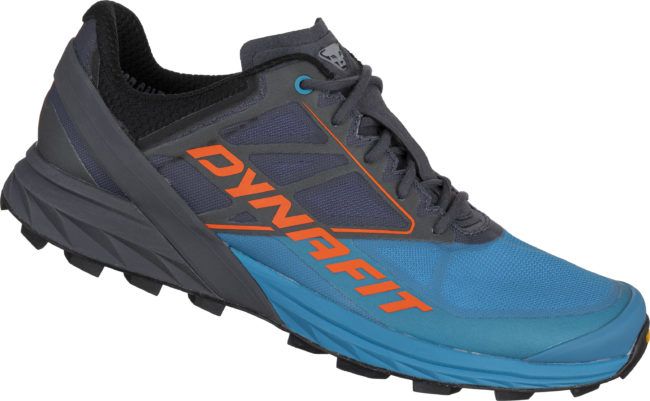 Alpine – a versatile tool for any trail (photo. Dynafit)
Sizes: 3-9 UK (women's) / 6-13 UK (men's)
Weight: 240g (women's) / 280g (men's)
Drop: 6 mm
Suggested price: PLN 699.90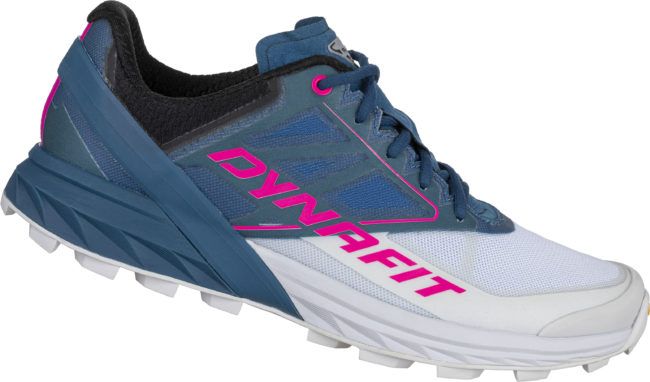 Alpine – a versatile tool for any route. Women's version (fot. Dynafit)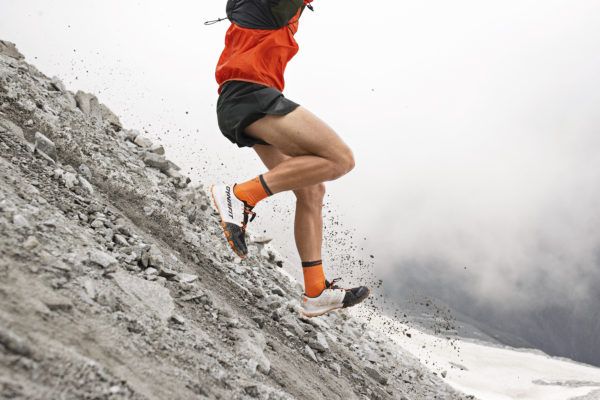 From extreme steeps to ultra distances… run! Off-road running shoes by Dynafit – 2022 collection (fot. Dynafit)