Daniel Tokarz and the project All Rivers of Poland – Outdoor Magazine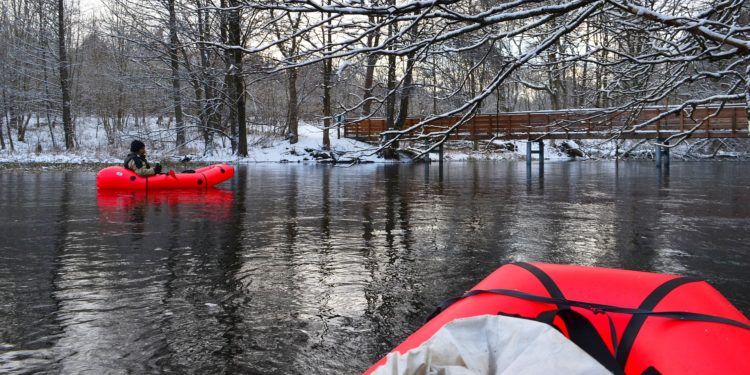 Daniel Tokarz and the All Rivers of Poland project
The idea of packrafting at least one section of every navigable river in Poland and briefly documenting this rafting in video format was conceived in 2019 and set off in a more organized manner in 2020.
I tentatively counted that there are about 200 navigable rivers, but with time the canoeing "fraternity" gives me more ideas and less well-known river sections, so in the end I plan about 250 rafting trips. The initial name of the project from "200 Rivers," changed to "All Rivers of Poland". I also plan to visit lakes that carry some interesting history or have interesting sites nearby.
This project is unique in that all rafting is done with a packraft, which is a lightweight canoe (about 3kg) that I carry in my backpack. Therefore, in most rafting trips, I also get to know the area around the river thoroughly, because after the rafting trip, to the starting point, I return on foot or by bicycle (so-called. bikerafting). To date, I have managed to float nearly 70 rivers, which means the project has been completed in about one-third. In the video below, I've selected a few frames from our rafting trips so far:
With the optimistic assumption that I will "pass" one river every week, the project will take about 5 years. However, in practice, due to various random events, family life or logistical possibilities, it takes nearly 6-7 years to realize the idea. Although the word "project" sounds quite tasking, visiting all these rivers is a great adventure and pleasure for me. On rafting trips I met a lot of interesting people and places. Due to the fact that the packraft allows me to enter and leave the water at any time, the course of the trip is quite spontaneous and takes place without a plan. That's why often instead of saying that I will be rafting from point A to point B I prefer to state that I will be operating in a specific area.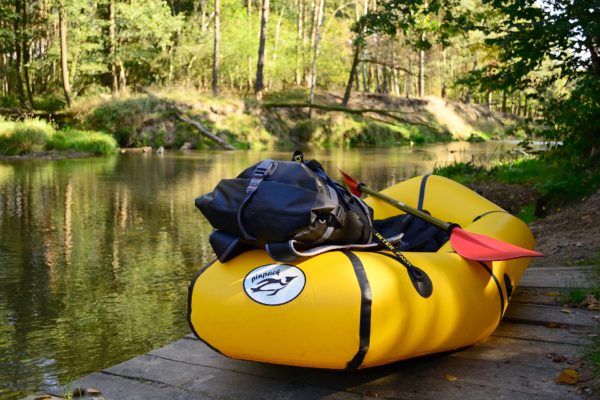 Mała Panew (fot. Daniel Tokarz)
I also combine my rafting with other activities that nature suggests to me. Many packraft trips in Poland, or treks back from a rafting trip, take place in the forest. It is an ideal environment for meditation or the so-called "meditation". forest bathing (Shinrin Yoku).
The result of the whole endeavor will be a subjective ranking and map of the most beautiful river passages in Poland, which is created on an ongoing basis and updated here: Ranking of rivers. I would like it to be an inspiration to others by showing them how to experience an interesting micro-trip in a short period of time, without much money.
I already have my types about the rivers that will be at the top of the ranking, but many rafting trips are still ahead of me, so this is certainly not the final version of "winners". Importantly, I do not rate only the rafting itself, but also the environment of the river in terms of nature and tourism. Half of my micro-trip is just getting around in a river environment.
In first place I placed the Drava River in the section of the Drawa National Park. It is a beautiful forested stretch of river, often mountainous in nature, with very clear water. Hiking trails and nature trails run alongside it, ideally suited for packrafting. It is worth mentioning that Śp. Aleksander Doba – OLO also considered that this is one of the most beautiful river sections in Poland.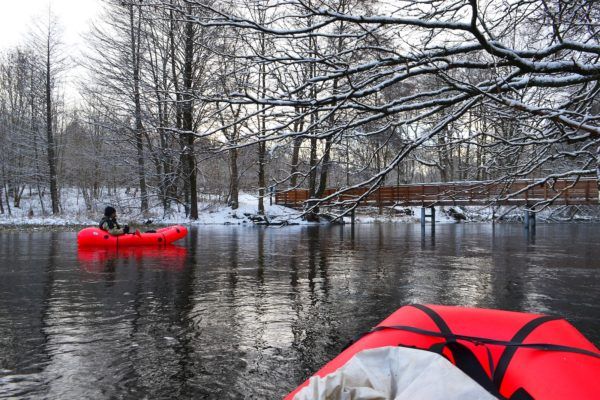 Drawa River (photo. Daniel Tokarz)
The most interesting part of the mountain river for me was the Dunajec Gorge, from which I cycled a section of the Velo Dunajec bike path on my way back. Another time, after rafting, I walked through the mountains, conquering the Three Crowns with a packraft. The sight of a man on the top of a mountain with paddles strapped to his backpack probably causes astonishment among other tourists.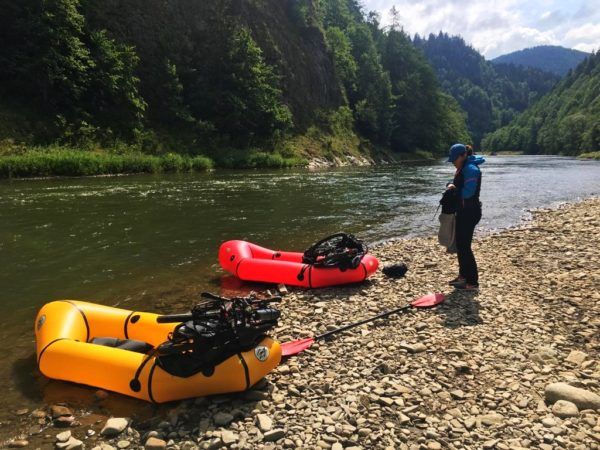 Dunajec Gorge – Bikerafting (fot. Daniel Tokarz)
It is also worth mentioning the unique packraft terrain, with which I was very surprised near Suwałki. Here I have scored some really special rafting trips on lesser-known rivers e.g. Marycha or Szeszupa. The canoeing "classics" – the Rospuda River and the Black Hancza River – also turned out to be beautiful.
Participation in the project "All Rivers of Poland" is possible for everyone. If you would like to show me your neighborhood and river, you are cordially invited to join me in a non-commercial rafting trip.