TOP cross-country competitions this summer in South Tyrol
For some, Italy's South Tyrol and the Dolomites are a skiing destination, for others a place for a summer vacation full of various activities, beautiful views and delicious food. But there is also a group of people who go for a particular sport: running. In addition to a variety of mountain trails that you can venture into on your own, there are numerous competitions and events in the region that will satisfy both lovers of light trails among beautiful mountain peaks and more "hardcore" options. Because there are sure to be takers for e.g. 119 km over mountainous terrain with numerous climbs, right? Looking at the growing number of participants every year, we have no doubt about it! Here's a list of the top cross-country competitions in northern Italy.
Südtirol Ultra Skyrace
Runners craving extreme thrills can't miss Bolzano this summer. The last weekend in August will see the next edition of the Südtirol Ultra Skyrace, the longest and toughest mountain run in South Tyrol. Participants in the main race have 119 kilometers of mountain route to cover. The organizers also offer shorter routes for less extreme runners: 63 km, 45 km and 27 km.
fot. mat. South Tyrol press release
Stelvio Marathon
The second highest mountain run in Europe takes place in South Tyrol – in ty, the year July 27. During the Stelvio Marathon, participants must complete 21 kilometers of mountain trails to cross the finish line at the top of the famous Stelvio Pass, which is located at 2,758 meters above sea level.p.m.! The reward for the effort is equally spectacular – participants will be able to saturate their eyes with the beautiful view around the Ortler massif!
Brixen Marathon
Brixen Marathon is one of the most important events for runners in South Tyrol, taking place in the first days of July. There are up to five trails and levels of difficulty to choose from: The 4.2-kilometer Brixen Women Run, which is paired with a charity fundraiser; the scenic Villnöss Dolomiten Run (22 km), a run set against the backdrop of the breathtakingly famous Villnöss/Val di Funes valley; Dolomites Ladinia Trail (29 km), during which participants will traverse the beautiful Val Badia valley; Brixen Dolomiten Marathon, a 45-kilometer run through the Dolomites; and Dolomites Ultra Trail, a team race with an 84-kilometer course to be completed.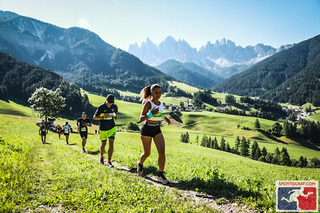 photo. mat. South Tyrol Press
Drei Zinnen Alpine Run
Sport. Emotions. Nature. These are the watchwords of one of the most beautiful Alpine runs – the Drei Zinnen Alpine Run, which this year (September 10) will celebrate its 25th. anniversary. Participants who complete the 17-kilometer distance are rewarded with a breathtaking view of the three majestic Three Peaks reigning over the horizon.
Alpe di Siusi Half Marathon
July 3 will be the 9th. Edition of the Alpe di Siusi Half Marathon, a run through one of Europe's largest mountain pastures. This scenic race begins and ends in the village of Compaccio, with 700 participants covering a 21-kilometer route through the beautiful Dolomites.
Skymarathon Rosengarten Schlern
Long, hard, fantastic – this is what its organizers say about the Rosengarten Shlern Marathon. This race takes place around the Cantinaccio mountains. The race begins and ends in Tiers and participants can choose between two routes, 36 or 45 kilometers long. Anyone who feels up to it can participate! Gathering July 9, 2022.!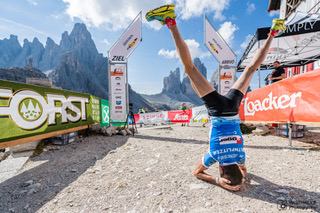 photo. mat. South Tyrol press
Resia's Lake Race
Resia is South Tyrol's largest lake. Surrounded by some of the region's most scenic bike and mountain trails. And that's where Resia's Lake Race, a 15.3-kilometer trail run set around the lake, will take place on July 16. From the north there is a picturesque view of the Swiss and Austrian Alps, while looking south you can admire the majestic Ortlers and Gran Zebru mountains. The run around Lake Resia is considered one of the region's most scenic races for good reason!
Ultental Valley Farm Run
The Ultental Valley is one of the most remarkable in the Alps. Picturesque hills, lonely mountains and traditional houses with wooden fences allow you to feel the true spirit of South Tyrol. The best way to explore the valley in depth is to participate in the annual Ultental Valley Farm Run, to be held on July 24. Covering the 8-kilometer route leaves enough energy to enjoy all the activities organized that day in the valley!
Dobbiaco Night Run
The event, started by a group of tourists – night climbing enthusiasts – and now iconic, will be held for the forty-fifth time on August 14! Anyone who feels up to it can take part in the 10-kilometer night run. An additional attraction is the 2.4-kilometer route for children.
Potato Run
For the 23rd time. Bolzano will host the "Potato Run," which is a run for… potatoes. Contrary to first associations, this is not a sack race, but a 17km-plus run, starting in Bruneck/Brunico and finishing in Campo Tures. Anyone can participate, but it's good to know that the race is very popular with locals and tough competition awaits! Start: 27th of August.
Latemar Mountain Race
This year marks the 10th time. Latemar Mountain Race, a 25-kilometer race through the peaks of Latemar will take place. For less seasoned mountain runners, a 15-kilometer route, Trail Experience, is also available. The race will take place on September 11.
Soltn Half-Marathon
Last on our list is the Soltn Half Marathon, which this year will have its 21st. edition of. The more than 20-kilometer run through the hills and forests of Soltn provide an extraordinary experience for all participants – and spectators! The race will take place on September 25, 2022. and will be the perfect culmination of the summer season!