Hydro Flask test we checked the new thermal cups and more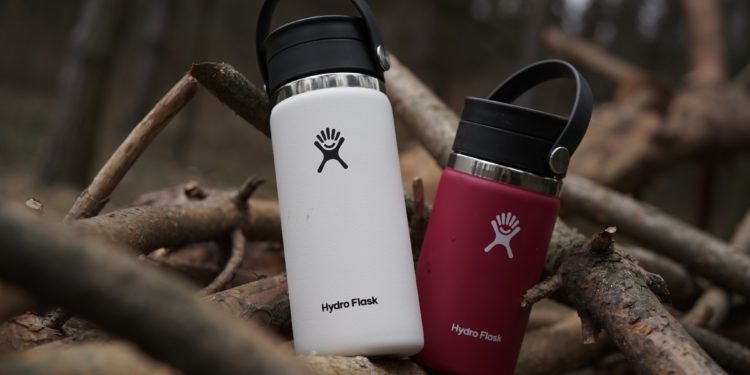 Hydro Flask: we checked out the new thermal mugs and more
There are many thermoses, thermal bottles and cups available on the market. Leading manufacturers offer products that are durable, hold temperature well and are leak-proof. Since we have been using Hydro Flask bottles, mugs and a food thermos for a long time, we decided to share our findings. Here is an extensive test of Hydro Flask products.
Coffee with Flex Sip™ Lid mug
The previous mug (with a lid) served us well and for a long time, so when it got lost, we reached for its successor without hesitation.
Coffee with Flex Sip™ Lid mug by Hydro Flask
The Coffee with Flex Sip™ Lid comes in two capacities of 355 ml and 473 ml (the strange capacities are due to the fact that it's a US manufacturer, so respectively: 12 oz and 16 oz). What sets it apart from its predecessor is the lid (Flex Sip™ Lid), which opens easily, but with a fair amount of resistance, and allows for comfortable drinking. The red dot in the center of the opening confirms that the mug is sealed. During testing, we threw the mug with a hot drink (extra pressure of evaporating liquid), shook it, put it upside down for a long time. Verdict: Flex Sip™ Lid doesn't let go, we can throw a loose cup in our backpack or bag without any worries.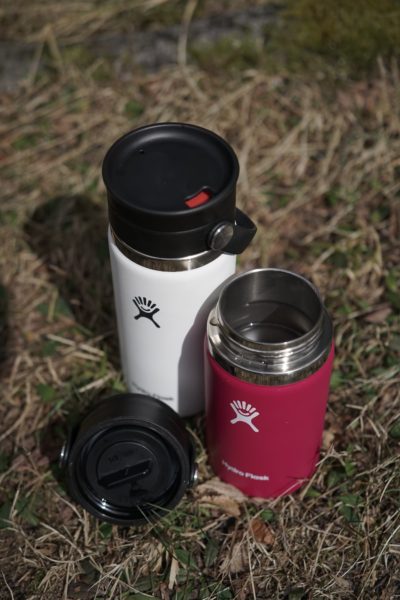 Coffee with Flex Sip™ Lid mug by Hydro Flask
Hydro Flask's previous closure system already worked flawlessly. However, in theory, the small flap could have snagged on something and opened by accident. The new solution also allows for better cleaning (dishwasher safe / video below). The plastic is free of harmful BPA and phthalates. In addition, the cap has a loop for carrying/attaching – in our opinion not necessarily necessary, but not in the way.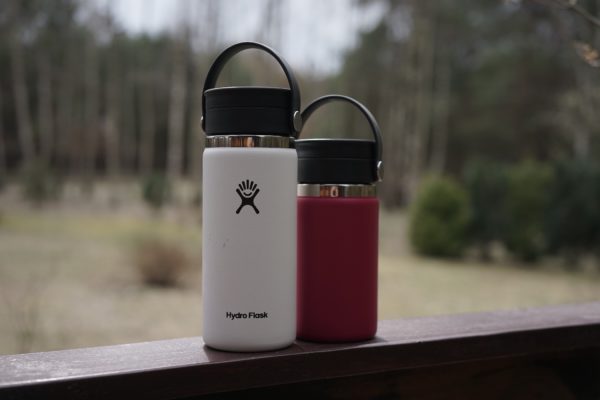 Coffee with Flex Sip™ Lid mug by Hydro Flask
Coffee with Flex Sip™ Lid fits into most car cup holders and some bicycle mounts.
Like the previous mug, bottles and other Hydro Flask products, the exterior paint is slightly rough (powder coating), so that even a wet mug is not slippery.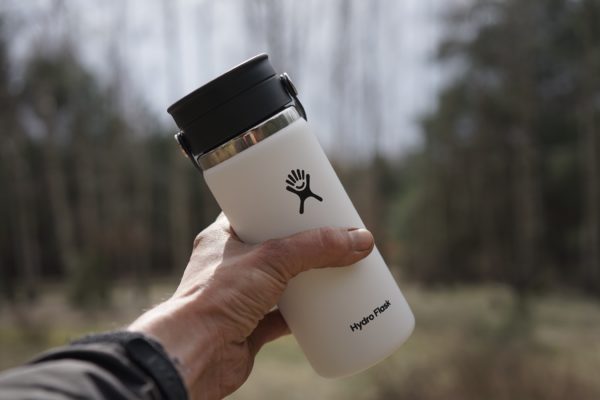 Coffee with Flex Sip™ Lid mug by Hydro Flask
Temperature holding in the case of a thermal mug, in our opinion, is not a priority, the mug by nature will always hold the temperature shorter than a thermos. Nevertheless, if you like hot coffee, you should not be afraid of. Coffee with Flex Sip™ Lid with double wall and vacuum insulation holds all too well. For the first hour you have to be careful not to get burned. Up to four hours, the drink will be really hot, and continue to stay warm afterwards. Just who waits this long to drink coffee?
Coffee with Flex Sip™ Lid mug by Hydro Flask (photo. outdoormagazine.pl)
Cleaning instructions for the Coffee with Flex Sip™ Lid cap
Thermal bottle
We have also been using HF thermal bottles for years. Here the insulating properties are even better than in mugs. In moderate conditions (above freezing) and when filled to the top of the cork, the temperature lasts up to 10 hours for hot drinks and 20 for cold ones.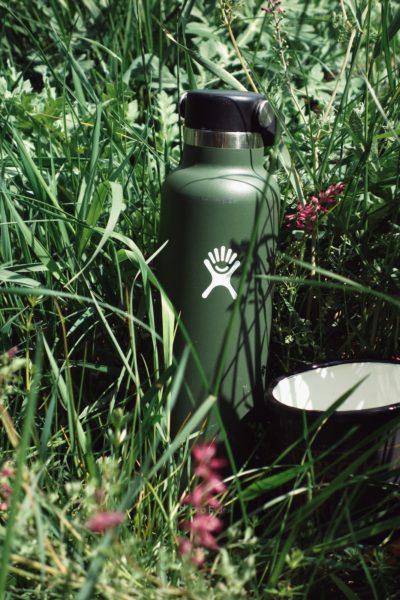 Thermal bottle by Hydro Flask – test (fot. outdoormagazine)
The best thermoses with the classic insulated cap and cork hold a little better. But HF bottles are slicker and handy, for example, they fit into some bicycle bottle holders.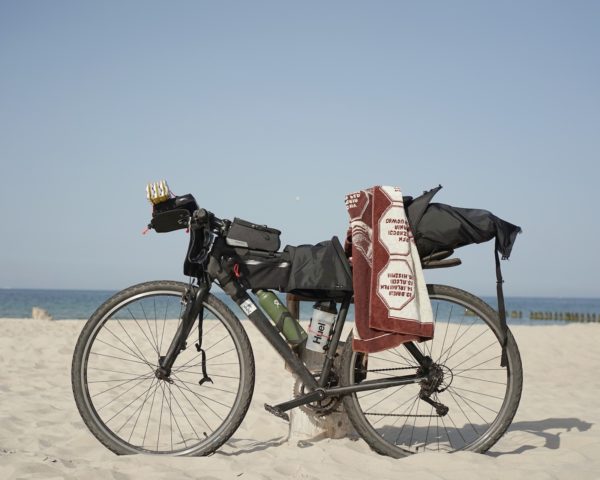 HF bottle in a bottle holder. Capacity 621 ml (phot. outdoormagazine.pl)
Hydro Flask bottles come in different capacities (from 532 ml to 1892 ml) and with different caps: wide, standard, stainless steel, with the spout of a traditional sports bidon, and with a flexible tube.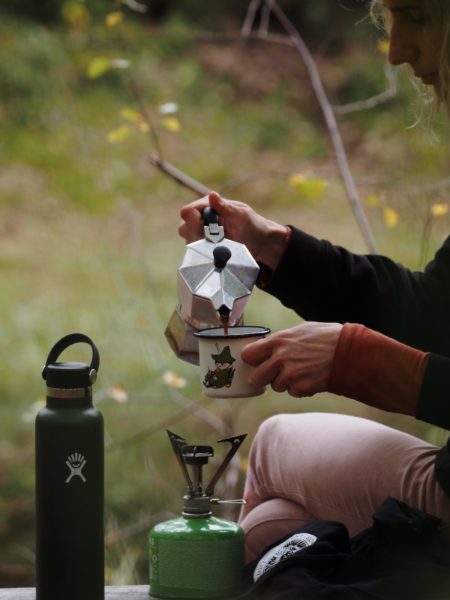 Hydro Flask brand thermal bottle (photo. outdoormagazine)
The biggest drawback not so much to HF products, but to this solution in general, is that hot drinks are unlikely to be drunk directly from the bottle, so you have to carry an extra cup. This has its charm, but only if you don't care about low weight and small luggage volume. In the case of a thermos, we usually have at least one cup (external cap).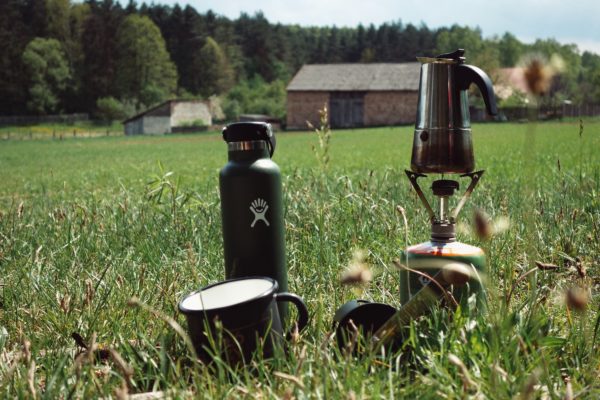 Thermal bottle by Hydro Flask (photo. outdoormagazine)
A limited series of HF bottles will come out soon: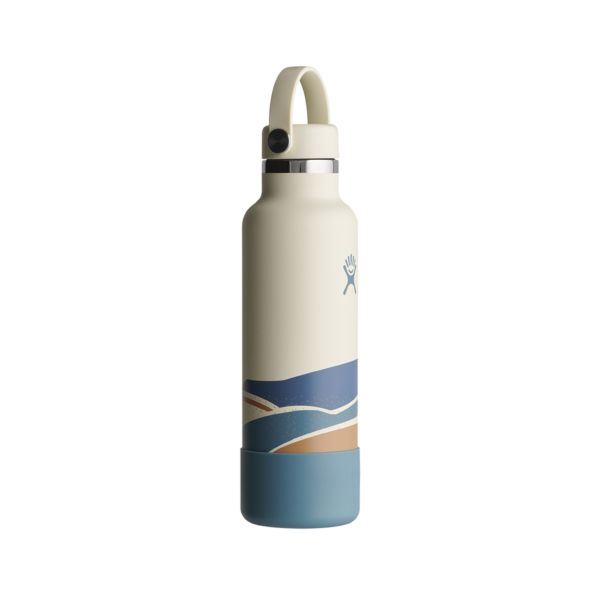 Hydro Flask Limited Edition (fot. Hydro Flask)
We have been using HF bottles for a very long time (several years). The outer shell has worn off a bit, mainly from use in metal bidon holders and bumps while cycling, but this does not affect functionality. The caps work like new all the time, they do not leak, there are no problems with washing or screwing/unscrewing them.
Food Jar – food thermos
We use the food thermos mainly in urban situations or during early ski trips – hot oatmeal or other meal prepared at home, food on the road or upon arrival, the thermos stays in the car.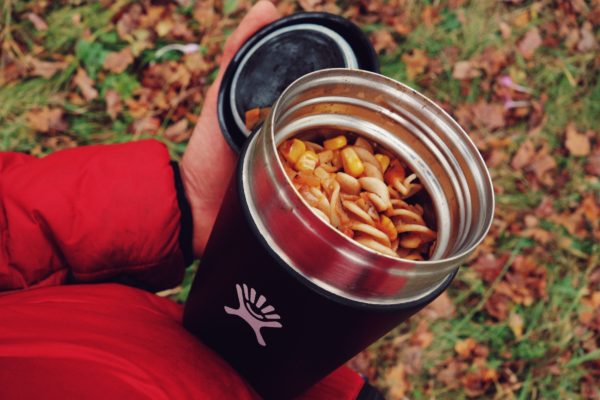 Food Jar – Hydro Flask test (fot. outdoormagazine.pl)
Food thermoses have a large opening, you eat out of them fairly comfortably, although the larger, and in fact deeper, the harder it is.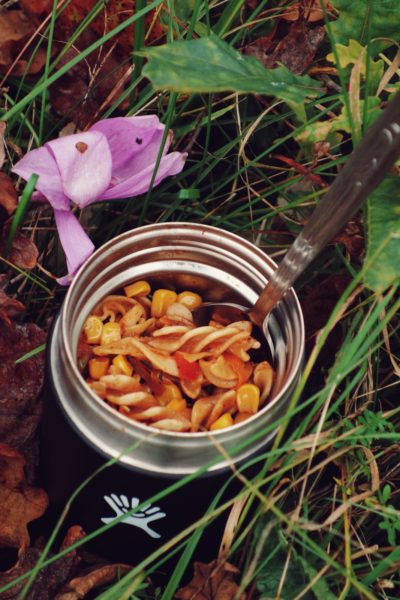 Food Jar Hydro Flask (photo. outdoormagazine.pl)
Food Jars come in four capacities, from a tiny 236 ml to 795 ml. We use the 591 ml capacity, which seems versatile, and still quite handy.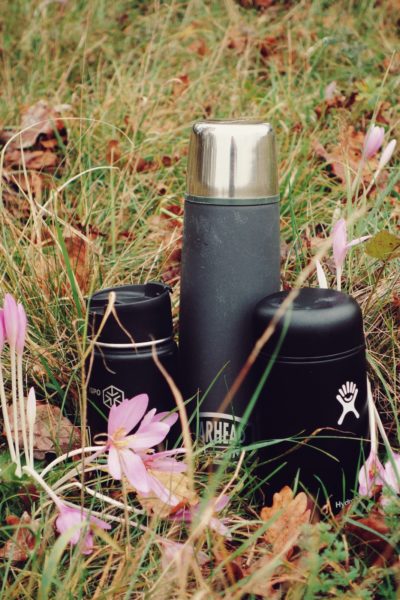 Food Jar Hydro Flask (right) accompanied by an old version of the mug (left) and an armored thermos by Warhead (photo. outdoormagazine.pl)
Summary
A total of at least seven products of this brand. We did not experience any problems, so we recommend in good conscience.
The Hydro Flask's greatest asset is its great build quality, which means longevity and no worries about leaking. Thermal qualities are at a high level, while keeping in mind that this is not a product designed to provide the longest possible temperature hold in extreme conditions (e.g. -20 degrees).
An additional advantage is a very large selection of colors – as many as 16 in the case of the bottle.