Novelty running vests by Dynafit sponsored – Outdoor Magazine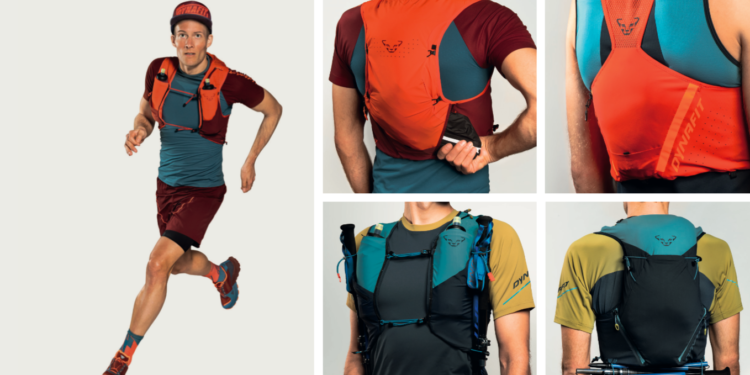 New: running vests by Dynafit [sponsored]
Food, drink, rain jacket, headlamp, gloves… When running outdoors, we need to be prepared for changing weather conditions and carry everything necessary to meet the needs of prolonged activity. Not surprisingly, our equipment must not lack a functional running vest, so that all the essentials on the trail are always at hand and do not restrict movement.
Four new DYNAFIT brand vests have a common distinguishing feature – a practical pocket configuration and a well-thought-out, body-fitting design that provides both adequate space for gear and load stability, from the first steps to the last kilometer on the trail.
All DYNAFIT-branded running vests have two softfleece pockets each, at least four open and flexible compartments, and a zippered pocket for small items that should be easily accessible during a run. Each vest comes with two soft bidons with wide openings for quick refilling. On the other hand, two chest straps with adjustable attachment height and the adjustment system on the sides allow the vest to be optimally adapted to individual needs. Also noteworthy are the solutions for attaching the poles in three ways.
To best meet the specific requirements of all trail runners, regardless of their preferred distances, four models have been developed that differ in volume, materials and features. DYNAFIT brand running vests will be available for sale from spring 2023, offered in three sizes (XS/S, M, L/XL).
ULTRA 12
The 12-liter Ultra 12 running vest was created for long, demanding routes where more gear is necessary. The height-adjustable elastic chest straps and the adjustment system on the sides allow you to precisely adjust the vest to your figure, so that it functions like a second skin. This effect is also possible due to the dense, elastic mesh – the material of the vest – providing stability to the backpack, along with its contents, even during intense movement. On the front there are numerous elastic pockets for gels, bars or other small items, while on the back the vest has been divided into three overlapping compartments, which are also easy to access during a run – thanks to this solution you will save precious seconds during competitions. The main compartment can be accessed from the top or via the side zipper. The second compartment is also zippered, while the front pocket is open, providing quick access to a jacket, for example.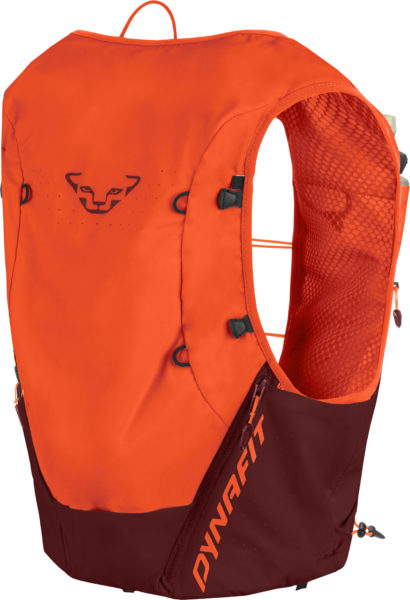 Ultra 12 running vest (fot. Dynafit)
The set of practical features is completed with fastenings that allow you to attach poles in three ways, an emergency whistle and reflective elements to make us more visible after dusk. The Ultra 12 vest is offered in three stylish colors.
Sizes: XS/S – XL
Weight: 190 g
Capacity: 12 liters
Price: 130 euros
ALPINE 15 and ALPINE 8
The Alpine 15 vest works well on long distances, and the smaller version, the Alpine 8, on medium distances, while in both options it is a great companion on any terrain. The dense 3D mesh used in its construction provides a comfortable fit, stability and breathability.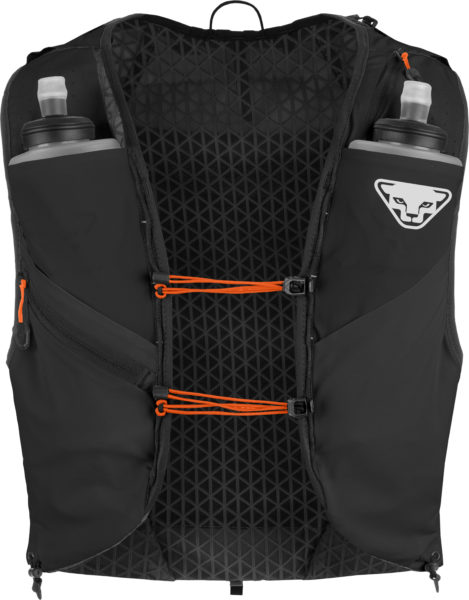 Alpine 15 running vest (fot. Dynafit)
Numerous compartments and pockets offer just the right amount of space for everything you need and need to be easily accessible while running. Thanks to the elastic chest straps with adjustable attachment height, the vest can be precisely adjusted to your figure, even after putting on additional layers of clothing. The Alpine 15 has a compression system on the back, allowing you to adjust the volume of the vest to its contents, which prevents the load from bouncing or rocking.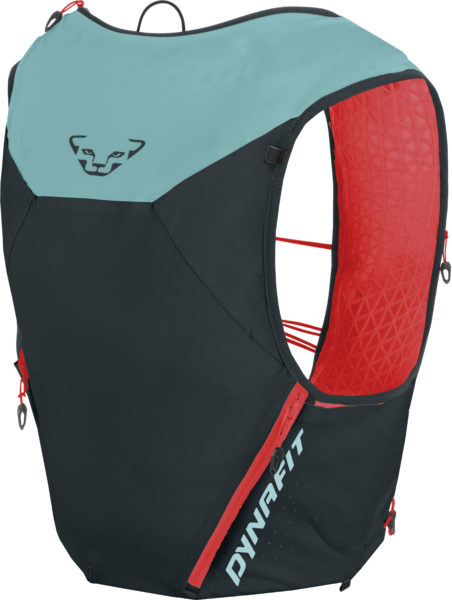 Alpine 8 running vest (photo. Dynafit)
Depending on individual preference, we can use one of three ways to attach the poles – vertical at the front or back, or horizontal at the back. The set of useful features could not miss a whistle, indispensable in emergency situations, and reflective elements, allowing you to be clearly visible in the dark. The vest is available in 15- or 8-liter capacity and in three colors.
Sizes: XS/S – XL
Weight: 250 g (Alpine 15) / 235 g (Alpine 8)
Capacity: 15 liters / 8 liters
Price: 140 euros (Alpine 15) / 120 euros (Alpine 8)
SKY 4
For short and medium distances, runners usually only need a drink, an energy snack and possibly an extra layer of clothing to protect against changing weather conditions. The Sky 4 running vest is the most minimalist and compact model in the collection, but offers a number of well-thought-out features for fast and efficient running. With appropriately placed pockets, the Sky 4 has a large enough area of breathable mesh zones – on the shoulders and upper back – to provide effective ventilation on hot days or during demanding races.
Sky 4 running vest (photo. Dynafit)
As with other DYNAFIT vests, all pockets on this model are easily accessible, so reaching for equipment while running doesn't waste valuable time. The fit of the vest can be adjusted comfortably with the help of the height-adjustable elastic chest straps and the adjustment system on the sides. The Sky 4 also features a three-way pole attachment option, an emergency whistle and reflective elements. The unisex model is available in three color versions.